Request a call
Introduce yourself and we'll call you back
Leave a feedback
Tell us about your experience with us.
Ask a question
Managers of the company will be happy to answer your questions, calculate the cost of services and prepare an individual commercial offer.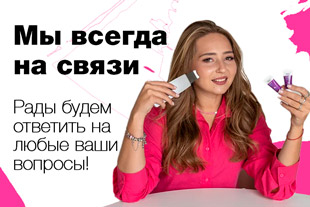 Pedicure in a beauty salon
A pedicure is a complete care of your nails and foot skin. The procedure helps to remove rough skin, calluses and provide comprehensive foot skin care. It is also a great opportunity to take a rest and relax.
Make an appointment
In our salon you can get several types of pedicures:
A hardware pedicure is a mechanical procedure for taking care of toe nails as well as the skin of the foot. The main difference between a hardware pedicure and a classic pedicure is that no water or skin softener is used here - everything is done with a machine.
European pedicure is a type of foot treatment, which does not use steaming and any cutting objects - scissors, clippers and other devices for removing cuticles. Due to this, the risk of damaging the skin and infection comes to naught, the treatment of feet is completely safe.
Smart-pedicure is a sophisticated procedure that allows you to treat the skin of feet and toes without emollients (oils, creams, etc.). The imperfections are removed dry using special SMART disks.
A classic pedicure is a nail treatment procedure involving cutting tools.
PRICE LIST
| SERVICE | PRICE |
| --- | --- |
| Finger processing | 50/60AED |
| Feet processing | 50/60AED |
| Pedicure (classic, hardware, smart pedicure) | 80/100AED |
| Golden trace pedicure | 140/160AED |
| Paraffin foot treatment | 20/20AED |
| Feet massage 15 minutes | 25/25AED |
SPECIALISTS
Advantages of pedicure in a beauty salon
В своей работе мы используем:
In our work we use:
Professional cosmetics of well-known brands;
Persistent and high-quality decorative coatings;
Sterile tools only.
Choosing us, you choose safety, comfort and high quality.
How often should I get a pedicure in the salon?
The frequency of the procedure is individual and depends on the condition of your skin and nails. People with soft skin and smooth nails can get a pedicure once a month. If the nails and cuticles grow fast, you need to visit the procedure more often.
A classic pedicure should be done once every 2-3 weeks, and you need to devote time to grooming procedures at home. Cosmetologists advise to select the hardware pedicure, which is to be done once every 20 days.
Home care procedures
At home, we recommend the use of softening and moisturizing creams. We recommend scrubbing your feet at least twice a week. The most effective for the feet is the scrub with natural exfoliating components, but do not use peeling designed for the body - you will not get the desired effect.
Besides, speaking of peeling. A scrub consists of a base (usually cream, gel, cosmetic clay) and abrasive particles (natural or synthetic). A foot scrub you can buy in a store or make your own: just mix a handful of common salt with a tablespoon of any shower gel. Rub the mixture into your skin in circular motions, and then rinse off first with hot and then cool water. With home care, you won't need to visit your pedicurist as often.
Nail fungus: is it possible to get a pedicure?
With fungal lesions of nail beds, it is important to pay attention to the hygiene of the nails. The disease progresses, the nail bed is destroyed more and more, it becomes thicker, and the cuticle becomes inflamed. Therefore, a pedicure for nail fungus is necessary. Masters of our salons perform regular, not therapeutic manicures and pedicures, which will not work with nail fungus, so we advise you to consult a podologist.
"Why does a pedicure cost more than a manicure?" - this question is often asked by customers. The fact is that during an uncoated manicure procedure, work is done only with the nail bed and the skin of the fingertips. When a pedicure is performed, then the treated area is much more skin: the entire foot, the surface of the fingers, the nail beds. That is, the procedure pedicure is more labor-intensive compared to manicure.
Salon services Sugar