Request a call
Introduce yourself and we'll call you back
Leave a feedback
Tell us about your experience with us.
Ask a question
Managers of the company will be happy to answer your questions, calculate the cost of services and prepare an individual commercial offer.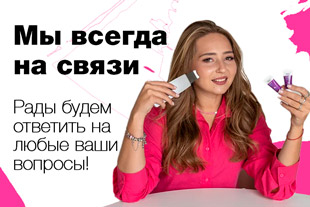 Hair coloring in a beauty salon
Hair coloring in our beauty salon is a process that will help you renew your image and express your individuality. Our experienced stylists use the latest coloring techniques and quality dyes to create the perfect result.
Make an appointment
1-TONE TINTING is a color change of one shade lighter or darker than your current hair color. It is a popular technique that can be used to refresh your hair color or give it a new shade without drastic changes.
COMPLEX DYEING is a complex approach to hair coloring, which includes the use of various techniques and a wide palette of shades. This procedure allows you to create a unique and spectacular image, perfectly suited to you.
AIRTOUCH BLEACHING is an approach to hair lightening that allows you to achieve a natural glow without harsh color transitions. This technique uses special equipment to create soft and smooth transitions between colors, giving your hair a unique and harmonious look.
BAYALAGE (WITHOUT TINTING) is a coloring technique that allows you to add different shades and texture to your hair without changing the basic color of your hair. It creates a radiant strand effect that accentuates your natural beauty and adds volume to your hair.
We are proud of our experience and professionalism in the field of hair coloring. Leave a request now and our specialists will contact you to make an appointment for a consultation and a coloring procedure.
PRICE LIST
| SERVICE | PRICE (master / top-master) |
| --- | --- |
| DYEING/1 TONE TINTING | : |
| Short | 200/250AED/250/300AED |
| Medium | 250/350AED/300/400AED |
| Long | 350/450AED/400/500AED |
| COMPLEX DYEING | : |
| Short | 450/550AED/500/600AED |
| Medium | 550/650AED/600/700AED |
| Long | 700/800AED/800/900AED |
| DYEING ROOTS+TONE TINTING | : |
| Short | 300/350AED |
| Medium | 350/400AED |
| Long | 450/500AED |
| TONE TINTING | : |
| Short | 150/200AED/350/400AED |
| Medium | 200/250AED/400/450AED |
| Long | 250/300AED/500/550AED |
| AIRTOUCH BLEACHING | : |
| Short | 550/650AED/600/700AED |
| Medium | 650/750AED/700/800AED |
| Long | 800/900AED/900/1000AED |
| BAYALAGE (WITHOUT TINTING) | : |
| Short | 300/350AED/350/400AED |
| Medium | 350/400AED/400/450AED |
| Long | 450/500AED/500/550AED |
| BLEACH HAIR | : |
| Short | 400/500AED |
| Medium | 800/900AED |
| Long | 1200/1300AED |